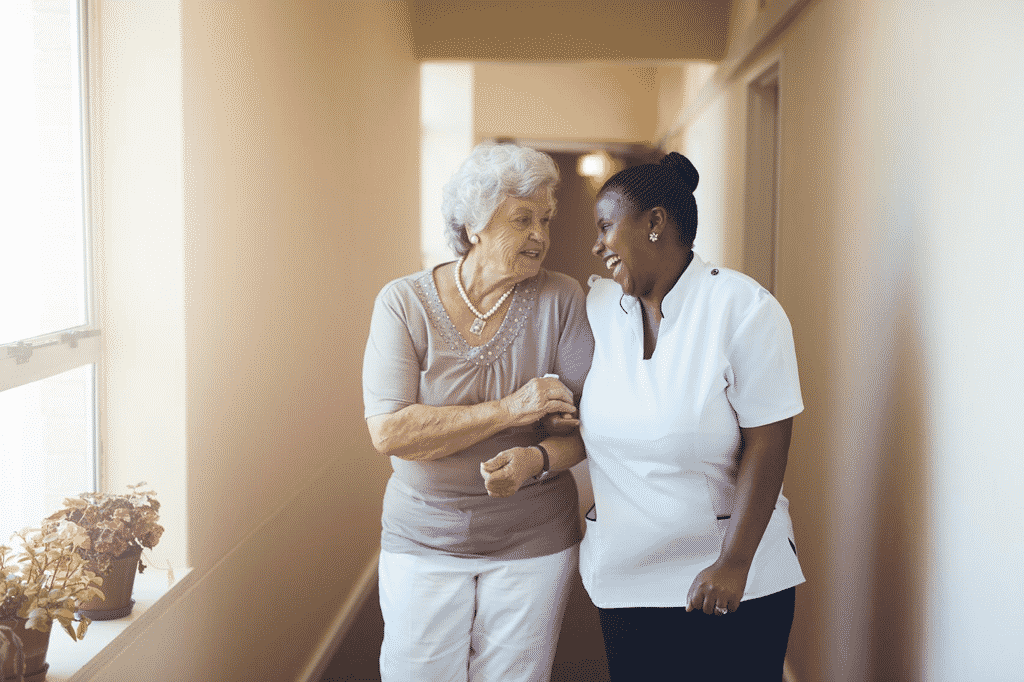 Choosing an assisted living facility, whether it's for you or for a family member, is a major decision - perhaps one of the biggest decisions we have to make as we get older. Finding the right one means that you'll not only receive the help and healthcare that you need, but that your transition into your new home will be easier, too.
While the right assisted living home is ultimately the one you feel most comfortable in, there are certain things you need to pay attention to at each facility you visit.
Care and cleanliness
When you first walk into a facility, pay attention to how clean and well kept the space feels. Are the public spaces tidy? Does the staff dress appropriately? Do the exterior of the building and the landscaping look as though they're tended to often?
Once you go into the residential areas of the facility, pay even more attention to how clean everything is - or isn't. Don't be shy about checking less conspicuous indicators of cleanliness like baseboards, corners, and inside cabinets. Then make sure to ask how often housekeeping services are provided and what's included in those services.
Staff
How welcoming are the staff members when you enter the facility? Do they greet you with warmth? Do they smile? Do they show interest in you and your family members?
What's even more important to watch, however, is how they interact with the residents and how the residents interact with them as you move through the facility. Do they know residents' names, and ask them about their day? Do the residents seem happy to see and converse with the staff members?
As you're observing, make sure to ask practical questions as well, such as:
● What's the staff to resident ratio?
● How many people work on the night shift, and what are their qualifications?
● What expertise or qualifications does the rest of the staff hold?
The staff can make or break a facility, so it's vital that you feel good about them. A brand-new, perfectly clean room can feel cold and empty if the people who surround you aren't kind and compassionate.
Activities
Different types of residences have different sorts of activity offerings, so ensure that the places you're considering have what you want. Are you planning on auditing a college course, or taking advantage of your city's museums? Ask whether the assisted living facility offers transportation or scheduled outings.
If you're more interested in dropping in to an on-site art class now and then, see what their class schedule is like and whether they bring in outside teachers. If you can, visit during an activity so you can see how they're led and whether many residents participate.
Meals
Even if you're someone who doesn't give much thought to the food they put in their mouths, you'll likely find that meals take on some significance once you move into a new place. Food is a big source of comfort for many of us, and bad food is just going to make your transition into your new home harder.
After you've asked the requisite questions about nutrition, meal times, dining options, etc., sit down and actually eat a meal at the facility. This way, you can taste what they serve and also get a feel for the place from the residents. It's a great opportunity to speak to people who actually live there.
Outdoor Spaces
Every one of us needs to be able to get outside and enjoy the air, so ask for a tour of the facility's outdoor spaces while you're visiting. Is there ample space to take a walk? Are there gardens, greenhouses, or other places where you can indulge a gardening hobby, if you have one? Will your grandchildren have space to run and play when they come visit?
You may also want to ask about security, if the grounds aren't fenced.
Choosing an assisted living facility is far from easy, but you'll stand a better chance of ending up in a place you love if you know what to ask and what to look for. If the costs of an assisted living facility are becoming a problem, talk to your financial advisor about the life settlement option. You can read more about life settlements here.