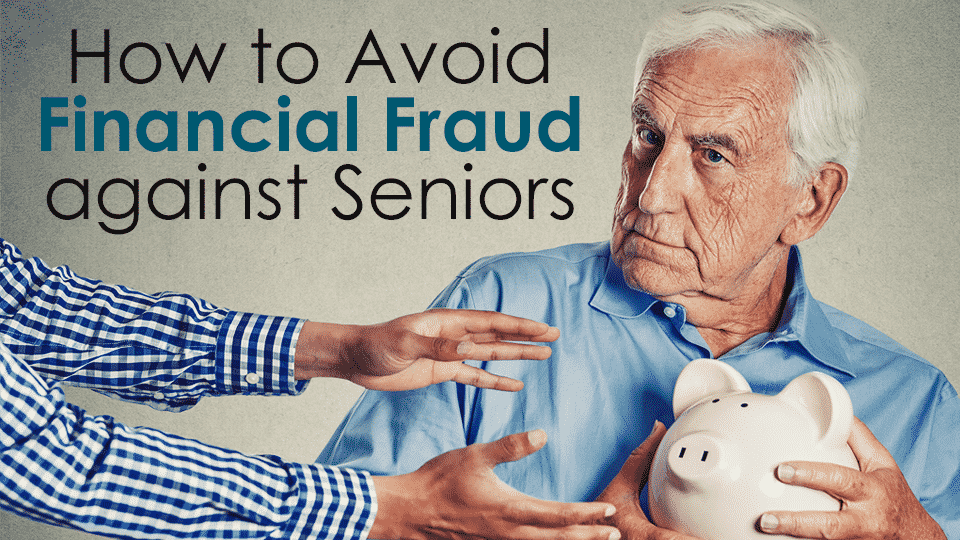 Older Americans have paid their dues. They've built businesses from the ground up, they've served in the armed forces, and they've raised strong families. After all of this hard work, they deserve respect. Unfortunately unethical people have made financial fraud the fastest growing form of elder abuse in this country.
You might be asking yourself, what is financial fraud against seniors? It's defined as "illegally or improperly using seniors' money or property," and is a crime in many states. Still, that doesn't deter many scam artists from taking advantage of this vulnerable population.
Senior victims of financial abuse can be targeted for a variety of reasons. Many people over 65 live alone and are isolated from friends and family, making it easy for a potential perpetrator to win their trust. Those with mental or physical disabilities or who have recently lost a spouse are also common targets. Many older people have set routines—they may receive checks on the same day each month, for example, which makes it easier for predators to predict when they have money on hand.
Fraudsters are commonly strangers like telemarketers or tradespeople, near-strangers with whom you have a professional relationship, or most sadly, a friend or family member who has found himself with sudden money troubles.
This is an extremely common phenomenon: in fact, one recent study reported by Consumers Digest estimated that there are at least 5 million cases of financial abuse in the United States each year, but only about 1 in 25 cases are ever reported. This is generally attributed to a victim's fear, confusion about their finances, or embarrassment at being taken advantage of.
Still, even Treasury Secretary Jack Lew, 59, said he almost fell for a con. A scammer posing as an IRS agent called him and left a phone number for him to call back, but after he searched the number on Google, he learned that it was a common scam. In January, he said the IRS had recorded 290,000 scam calls since October 2013.
It's vital that seniors are given the tools to protect themselves against financial fraud.
Arming seniors with the knowledge of the most common cons is the best way to prevent them from occurring.
What are the most common methods of committing financial fraud against seniors?
Sweetheart Scams
Would-be romantic partners will court lonely older people and try to convince that they truly love, care for, and want to be with them. They will then persuade their new sweetheart to be included on bank accounts or property deeds; the romantic partner usually disappears along with the money.
Rock in a Box/Excessive Charges
As we've mentioned before, Baby Boomers appreciate deals. This con works by taking advantage of this fact by coaxing an elder into buying a big-ticket item, like a TV, for an extremely reduced price. When the box is received, what seemed like a rock-bottom price for a new TV is revealed to be an extremely high price for an actual rock.
Another version of this rip-off involves selling a good that improves a senior's quality of life, like a hearing aid or safety device, but adding exorbitant interest and installment payments.
Repair Work Trick
Many seniors are extra vulnerable because they live alone. So-called "repair men" will find neighborhoods with many older residents and come to your house claiming you've ordered some work to be done. They'll require payment up-front and many will then claim that their initial review has shown a more serious problem—which of course requires a larger fee. The work they do is usually unlicensed and poorly-done. This scam works because many retirees don't want to admit that they "forgot" about ordering the work to be done.
Magazine Subscription Swindle
You get free issues of a magazine for three months, and then the trickster will call and say that they are owed money. The scammer is banking on the senior's embarrassment at saying no—and many with memory problems will believe that they really did purchase the magazines. Con artists exploit this generation's trusting and polite nature, knowing that it's hard or impossible for them to say "no" or just hang up the phone.
(Great-) Grandchild Con
This scam usually targets seniors who are active on social media like Facebook. Scammers will find a victim online and learn names of a grandchild, then call posing as that person and ask for money for an emergency (like arrest or injury), begging you not to tell "Mom or Dad." A twist on this ploy involves just calling and saying, "Hi Grandma, do you know who this is?" until an unwitting victim guesses a name—providing them with a fake identity.
Phony Prizes and Sweepstakes
If it sounds too good to be true, it probably is. In this case, someone will call you and say you've won a large prize (like the lottery or a vacation) but need to pay a fee upfront for processing, taxes, or shipping and handling. This trick has bilked Canadians out of an estimated $1 billion per year and works because it preys on a senior's need for additional funds.
How to reduce the risk of financial fraud
Unscrupulous telemarketers use the phone to defraud honest people out of $40 billion per year, tricking one in six Americans—and AARP claims that 80 percent of victims are aged 50+.  One of the best protective measures against this financial fraud against seniors is to get placed on the national "Do Not Call" registry. Similarly, never give out sensitive information over the phone, email, or postal mail unless you're the one initiating the exchange.
Check reviews and get referrals before hiring anyone to do a service for you, and don't pay up front.
Be wary of overly friendly new friends or romantic partners, and keep in regular touch with friends and family.
It's also a good idea to remain aware of your financial situation, receive regular reports of your credit score (to check for unauthorized activity), and to notify your bank as soon as you think you might have been the victim of a scam. Many of the scams on this list work by taking advantage of a senior's need for additional money to pay for retirement, health care, or other expenses.
One option that might seem too good to be true is the life settlement transaction-- but it's 100 percent real, safe, and regulated. You can generate unexpected payouts by selling your unneeded life insurance policy on the secondary market. Take our quiz to see if you qualify to sell your policy for cash, then talk to your trusted financial advisor about your options.